The RabbleBerries —
Meet the Band: Alan, Karen, Ron, Sharon
• Alan O'Dean
Alan O'Dean is a self-taught master of the guitar in its many lovely tunings and of the steel slide; his own bag contains autoharps, mouth harps, thumb pianos, fretless banjos, mandola-family instruments, more autoharps & dulcimers & other zithers, tools for teaching and repairing things with strings, and for all that he's known as a pickin' professor. Guitar enthusiasts will enjoy his tasty southern fingerpicking, and his colourful songwriting explores several traditions and fringes thereof. He has a 30-year career in teaching, organising workshops, and promoting music of and by folks. He is a member of the Victoria Folk Music Society (VFMS), the Island Thyme Morris Musickers, played with the Victoria Mandolin Orchestra, and co-hosts CFUV's "Sunshine Breakfast" show with Sharon Hazelwood. O'Dean considers his best work to date the last 10 years' collaboration with Sharon, producing delect­able harmonies and genre-crossing arrangements, as well as a goodly amount of ready humour.
• Karen Gillmore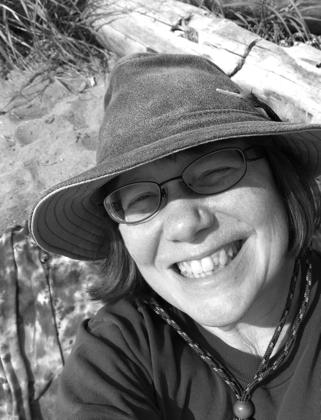 Karen Gillmore is a frustrated orchestra with only two hands and one voice, so she soothes her muse by playing with the RabbleBerries, who let her play with all of her musical toys—but only one at a time. Usually. Karen's musical background includes Celtic, Medieval, and Renaissance influences, as well as Folk Revival, show tunes, church and school choirs, and the whole daily cacophony of music to which we are exposed in this global village. From the American South to Seattle to Vancouver Island, she has performed solo and with many early music and folk groups, including Virgo Rising. Karen is also a working visual artist—her husband Ron says that's like taking a double vow of poverty! But the muses persist, and sometimes collaborate; her songwriting draws on her diverse influences to create her own style of musical portraits of our world. Her greatest musical ambition is to have her songs pass into "the folk tradition"—and to hear lots of other people singing her songs!
• Ron Gillmore
Ron Gillmore is the Rabbleberries's new bass player: electric bass player. Having played guitar for much of his life, Ron is finding the four-string bass to be a lot of fun and promises to not play chords on it.
• Sharon Hazelwood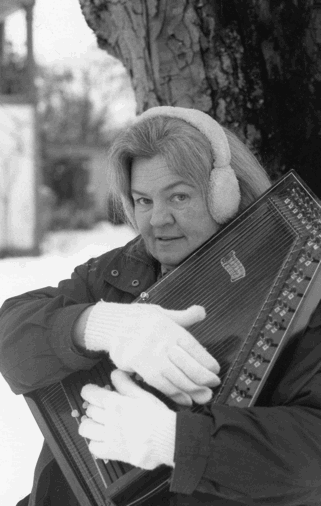 Sharon Hazelwood is an adept player of the tenor guitar and autoharp, possessing also a penchant for anything that can be used to define a rhythm—with a bag of rattles, pods, shakers, spoons and a bodhran. Her clear soprano voice has rung out on four continents at festivals and coffeehouses; from British Columbia to England, Zimbabwe, Australia, and back again, she has introduced audiences to Canadian folk music. She is a dancer with the Island Thyme Morris team, co-hosts CFUV's "Sunshine Breakfast" show with Alan O'Dean, and a longtime member of the Victoria Folk Music Society. A prominent political songleader, she appears at many Vancouver Island rallies and fundraisers. Sharon's best known for her work with the Victoria group Virgo Rising, among the area's finest harmonisers for 10 years.
• Ken Orchard (retired from the band, 2011)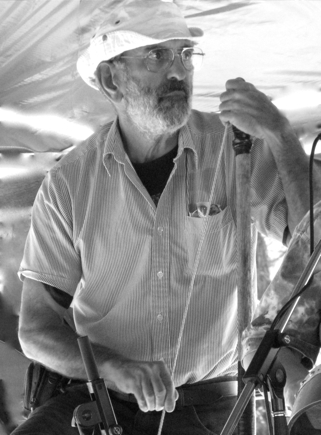 Ken Orchard sometimes carries with him a washtub, claiming that it is a musical instrument. The music of the RabbleBerries being very political, Ken's tub assists in the process of airing dirty political laundry in public. Good clean fun! Ken has retired from teaching and engineering, which has served as one non-musical facet of his social activism. Since retiring, he has made time for travel, often incorporating his activism by doing election-observing and learning and writing about social conditions in Latin America. Ken has also been seen singing at rallies and coffeehouses around the world. He's currently a radio host on CFUV's "Folkin' Around" show, assisted by Karen Gillmore, and is a former member of the Gettin' Higher Choir.